UTMB - The Highs and lows of a 172km trail race
Feb 20, 2022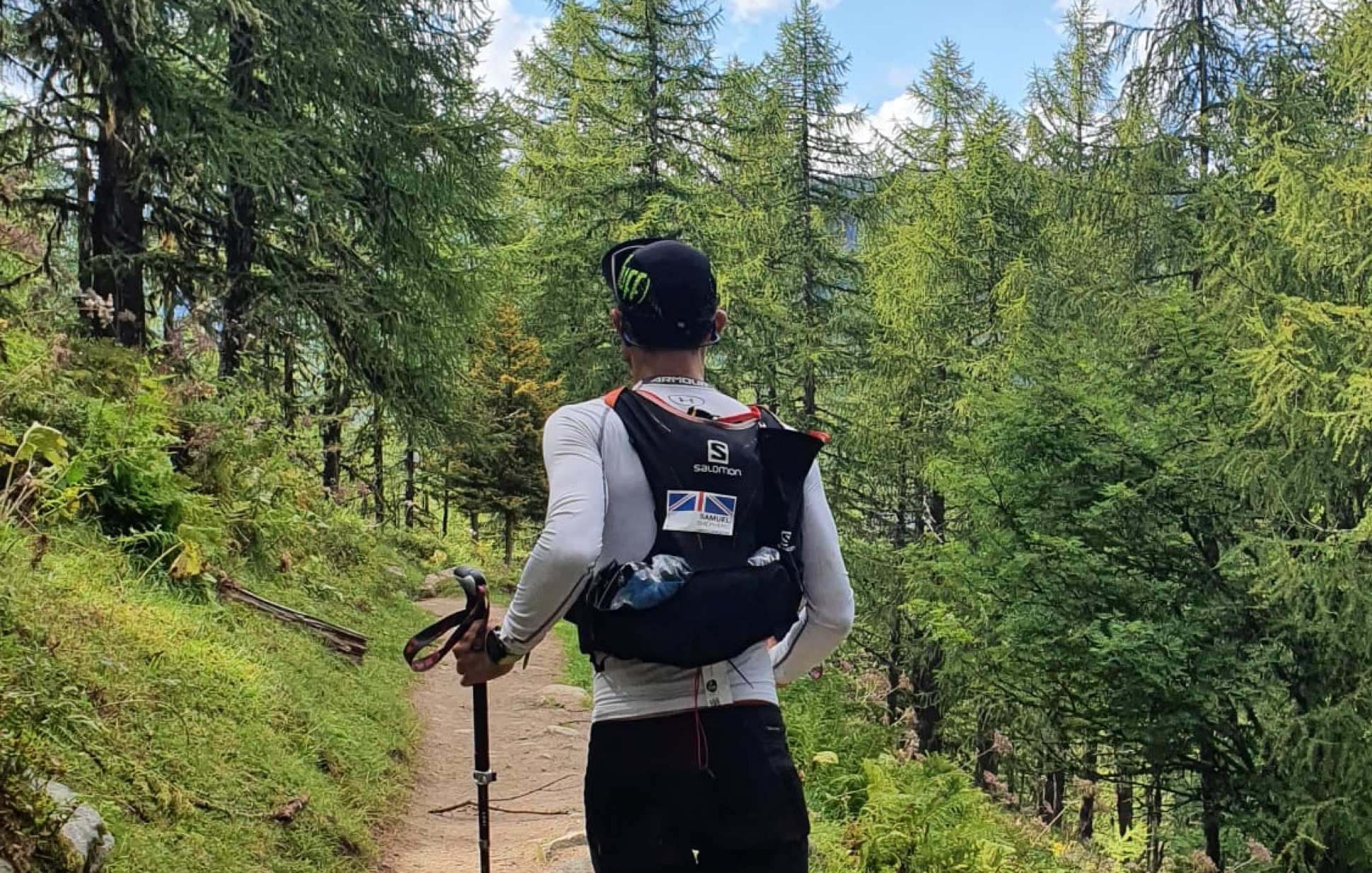 The Race description
Ultra-running (any distance over the 42km of a marathon) and trail running has been getting more and more popular. The Ultra Trail de Mont Blanc is a week-long festival of the sport, with six different races of up to 300km long with 25,000m height gain and loss.
The main race, also known as UTMB, is considered, outside the US at least, the pinnacle of the sport. The course is 172km long with 10,000m of height gain and loss. Starting in Chamonix, the route loops around the Mont Blanc, through France, Italy, Switzerland and back into France to finish again in Chamonix. The terrain is often very technical, with steep ascents and descents, and is challenging even for the world's best. However, there is fantastic support along the way, with water, food and safety support at regular intervals on the course and amazingly dedicated spectators who can camp out all night cheering competitors onwards.
The race starts at 6 pm on the last Friday evening of August, with the first of the elite finishers coming back into Chamonix early afternoon on Saturday. The last runners to get an official time need to arrive within 46 hours, Sunday afternoon. Anyone who takes longer not only has been moving for two days and two nights, they also don't get an official time, just a Did Not Finish (DNF) and no snazzy finishers' jacket. Around 30-40% of the 2,500 runners at the start won't cross the finish line - dropping out due to injury, exhaustion or running out of enthusiasm to keep moving forward.
UTMB course profile
The UTMB start and finish at Chamonix, France. Chamonix has a long history of alpinism, and cycling, climbing, snow sports, trail running, paragliding and other sports are part of daily life for many in the region. Along with the local population doubling or more with tourists for the race, the overall atmosphere is electric during the UTMB.
My run in 2018
My first UTMB was also my first 100 miler, and it was an incredible experience, I had trained well and done serious preparation for this almost mythical event. I tried to take it easy to begin with and remember discussing with Beth Pascal (one of the favourites for a podium in 2021) at the beginning as the many overly-confident guys running so hard past us in the first few hours were unlikely to make it to the end of the race.
The weather was cold at times, with periods of very cold winds, and some rain and snow over the first night, before warming up to a comfortable temperature for the next day. This was one of the reasons a lot of elites didn't make it to the end of the race, including top runners in the world like Jim Walmesley, who I was shocked to pass around 70km in (only catching him because he had been walking slowly for ~40km).
The event was a brutal baptism of fire for my first 100 miles, but I kept a good pace despite getting slower and slower and managed to go from around 300th at the start to finish 39th place with a time of 26h:17m, just behind the 3rd woman overall. Ultra-running is much more balanced regarding the performance of men and women than most sports, with a female winner overall in many cases, despite most competitors being male.
My 2021 run - A false start
To apply for the UTMB you have to qualify with a certain number of points assigned by completing previous ultra races, and (a) apply through a ballot with around four times as many apply as there are places, or (b) achieve an 'elite' rank based on your race performances to get a guaranteed place, or (c) raise money for a charity-provided place.
In 2018 I tried (a), failed the ballot and went to (c) - bugging family, friends and colleagues in 2018, and raising a lot of money through months of mini bake sales at work. In 2019 I applied to the ballot again and failed again, but didn't switch to (c). I applied for 2020 and got in - hooray! Then COVID happened and the world and its borders shut down. A race with 2500 runners going across three country borders and 10,000's spectators weren't likely to go ahead. Unsurprisingly, the race was eventually cancelled for 2020, and all entrants moved to 2021.
My training at the start of 2021 was OK, but to ensure that the race would go ahead, I didn't really train as I should have. Going through winter, spring and then the start of summer, I waited for the email confirmation that was going to move my race back again to 2022. Such a shame, but what can you do?
Then at the end of May - good news and bad. Good news first - the race is on. Bad news next - the race is on... ...and I need to catch up on training, work is busy with the launch of the world's first Alzheimer's drug, and I'm not even sure I enjoy running that much anymore.
Preparing for launch
From the end of May steadily increased my training with the help and encouragement of Alice, friends, sport groups (ZZP, Zug Park Run), and also regular ad-hoc challenges (Zug Skyline, Zuger Trophy, Iron Lady Challenge, ZZP Tri) and the need for an antidote to sitting in a chair staring at screens.
Then the hardest part - taking a few months to reduce weight by reducing my regular snacking: no more double-breakfast or double-lunch, less sugary things and almost no beer or other alcohol.
With no kids, it's possible to do the training volumes required - you just have to balance the running with sleeping, work and your relationship. If you were single, it would be fine. If you didn't need to sleep, it would be even easier! Some people manage to perform at elite level despite kids, full-time jobs (ultra-running is getting more popular but there aren't many who don't have to do some other work), etc. - undeniably, they're more organised than me.
As it got closer to August, I was able to increase my training time and then Alice had to go back to the UK for 2 weeks and would also be super busy, so right at the peak of my training schedule, I could ramp up my volume - including my first week of above 200km without too much guilt or ruthless organisation.
Then finally - what bliss - tapering. I tapered a bit too hard, cutting volume to around 30% (instead of ~50%), due to work pressures, but it's probably better to be on the side of more rest.
Tragic news
I had rented a chalet in Chamonix for the event in 2020 and was luckily able to move it to 2021 when the event was cancelled, but the plan to have the family stay didn't work due to the continued difficulty of travel between the UK and France. So I invited friends and there were a few who were doing other races in the UTMB, so there was a good group of us at the end. It meant I had a few days to relax and prepare before the race and could stay a few days afterwards to recover.
Despite good preparation, it could have been better - I was stressed from work, hadn't had long to train at high volumes, didn't know how fit I was, hadn't had the chance to do preparation races of ~100+km to build up, and I wasn't really feeling ready or as excited as I should be for the event.
"
To be honest, I was scared - I knew what was coming, and I didn't know whether I could finish.
Then terrible news: a fatality in the TDS, one of the earlier races. A runner had fallen off the trail, been helicoptered off the mountain, but hadn't survived. The 1200 runners behind him were held for a few hours whilst emergency services attended, but then their race was stopped and they were sent back. The runners ahead of the accident carried on and only 212 went on to finish the race.
I always say that running is less risky than not running, given the health benefits, but this was not true for this man on this day and was so bitterly sad news for his family and friends. The mood had changed, but we were on our way.
Lighting the fire
The UTMB started on Friday 28th August 2021. Due to Covid precautions, the normal mass start was changed, and the runners were split into waves, which was supposed to have been done by runner performance ranking. Around 130 Elites and 750 wave 1 runners started at 5pm, 850 wave 2 runners started at 5.30pm and I was part of wave 3 which started at 6pm.
After the elites left, I went off to my wave, said goodbyes to Alice and waited to be led to the start. Vangelis once again was fired upon the sound system, and all the worries, plans, training and preparation melted away. The mood was excited, electric.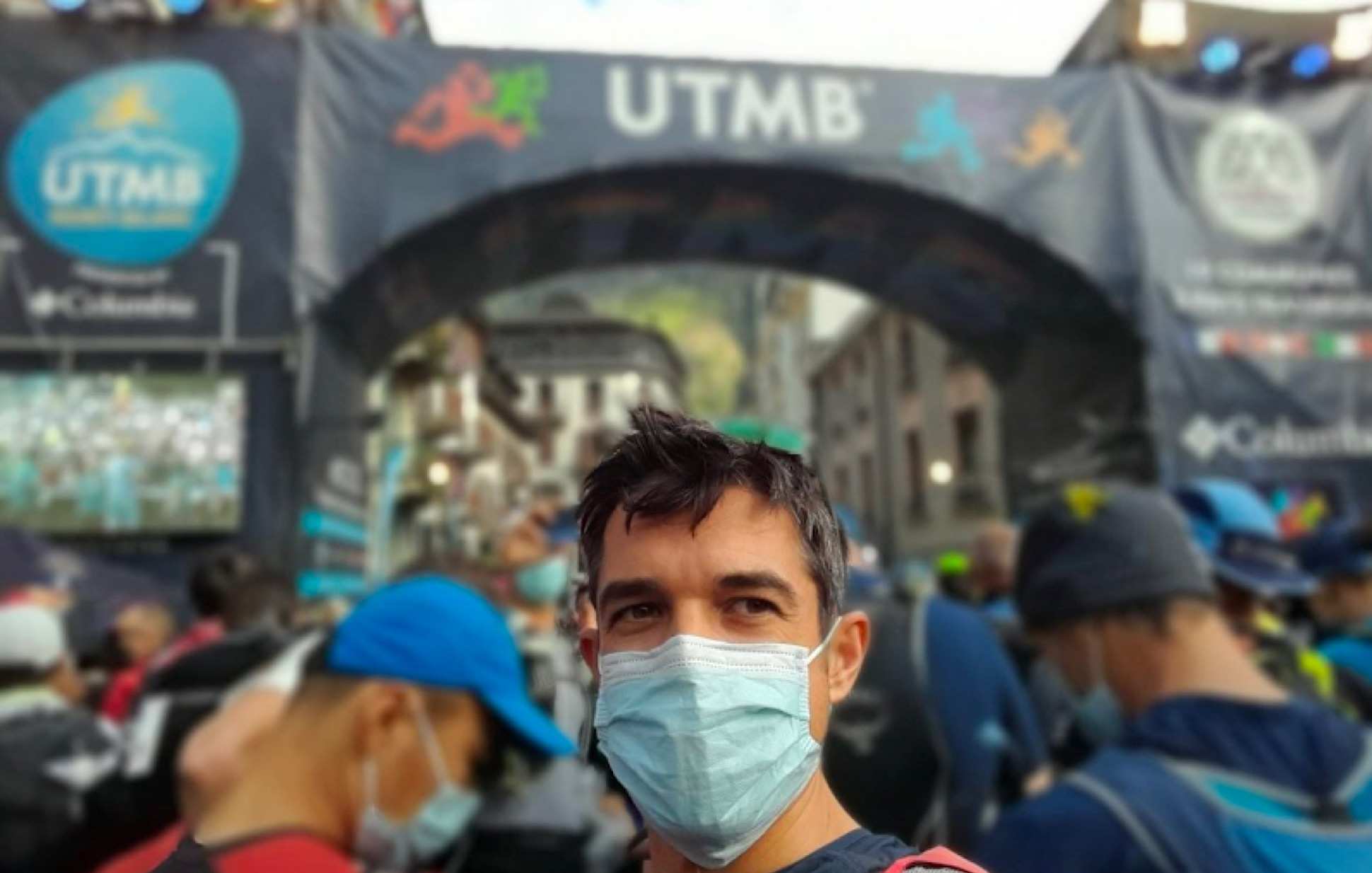 The announcer tries to build up the crowd: 'while wave 3 won't be on the podium, or necessarily even in the top 100, you can still go out there and do your best. Hmm, I might try to prove you wrong I thought, feeling a little bit defensive. Why am I in wave 3? I did well in 2018, didn't I? Some of the wave 3 want to aim for a similar time to me, right?
Synth crescendo.. beats drop.. ignition.. we're off. Nothing to worry about now but putting one foot after the other until the finish line or as close as is possible.
Everyone starts too fast (mistake No. 1)
Everyone goes too fast at the beginning - too much fear, nervousness, excitement and noise. Some of the Elites are doing sub-20 min 5K pace over the first 8K. You get very fired up by the music, and then you fly through 1000s and 1000s of screaming spectators.
I tried to be a bit smarter, like I had in 2018 and held back a lot more than most people. But in 2018 i didn't hold back enough. This year I thought I was holding back but I really wasn't. It didn't help that by the end of the main street, there are raucous pub-goers with trays of cold beer trying to tempt runners (with just 1km down and 171km left to go) to take a sip of the glorious golden liquid. I had cut back on beer for months. I thought, 'fuck it. I grabbed a beer to massive cheers from the crowd and took a small sip.. (mistake 1b)
Riding the waves (mistake No. 2)
Coming from the last wave, within an hour, I had caught up with the walkers from the back of wave 2 (who started 30 mins ahead) and started to make my way through them. At this time it was starting to get a bit darker, and the paths were going between road, gravel track and single-person width trails.
It was pretty difficult to pass at certain points, but I felt I had to push on and get some clear space to run. I used wider tracks to steadily move up the field, hiking on the steep sections but running the shallow climbs and flat sections. On the downhills, everyone was going quite slowly, taking all the space of the trail, and I took some sections very wide to fly past them.
After around 2 hours, I hit the back of wave 1 (who started 1 hour ahead). I got frustrated and pushed hard on the long downhill to Saint Gervais 22km, having done 900m up and 1000m down.
Next was the long 2000m climb through the popular little Les Contamines ski-resort and up to the Bonhomme peak at 46km and 3000m cumulative climbing. At the peak, after around 6 hours, I had passed through the walkers and slower runners from both groups and the numbers were starting to thin out. Up until this point, the trails have been almost constantly filled with spectators, cheering, ringing cowbells and shouting on the runners. Lighting up fires through the night, along with excellent down jackets to keep them warm "Bravo, . People are amazing! A couple of fat mice diving past my feet to get out of the way and find some food was pretty cool too.
Because of the 6 pm start time, the first ~12 hours is mostly in the dark when it's cool and you follow your tunnel-vision headlamp, seeking out the reflectors of the course markers and following the flashes of light in front of you. There are few spectators through the early hours and progress is a steady war of attrition with those in front. I was still passing people on the ups and downs, but the rate was slowing. Looking in front and behind, you see that you are part of a huge snake of lights through the mountains, a truly stunning view.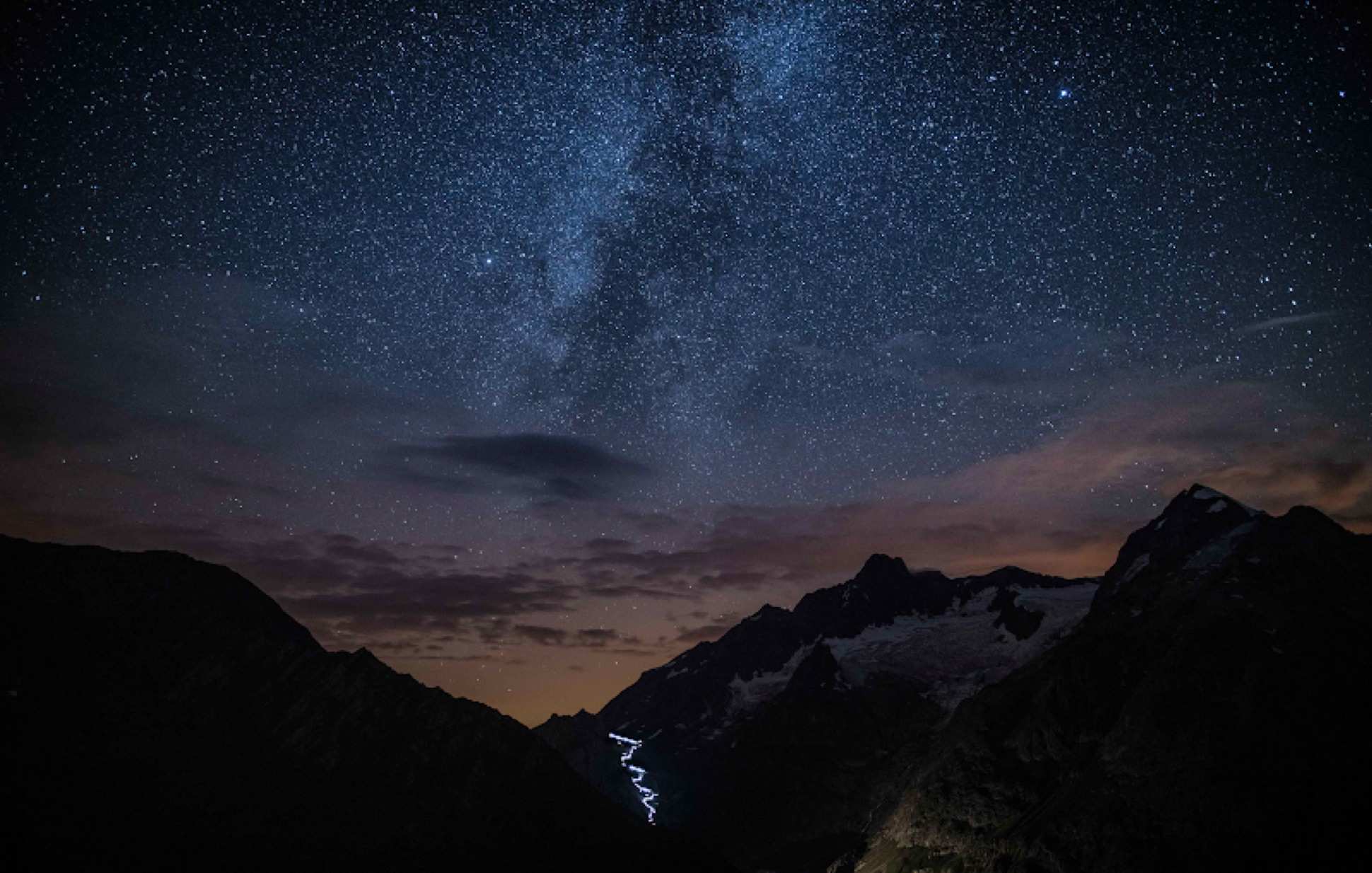 Then it was down to Lac Combal and then up the final big climb to Favre (72km) before a big 10km downhill to the biggest stop at roughly halfway at Courmayeur (81km, 4700m), to my drop bag with clean clothes and shoes.
I was still feeling reasonably good, but hadn't been eating as much as planned and didn't really feel like eating my bars, gels or the savoury food on offer at the stations. However, watermelon and orange tasted great, and i was filling up isotonic sports drink in one flask and water in the other. I was enthusiastically calculating and recalculating my pace, time and speed to estimate a finish target. I was on track to beat my previous time of 26 hours. I was potentially insight of even a sub-25 hours, but the intense efforts at the start were about to kick in.
Almost Halfway
As you run into the Courmayeur halfway station, the staff read your number and shout down the lines and lines of bags to grab yours and have it ready to pick up. At 11 hours elapsed time, I was 30 mins behind my previous time but hope I could pull it back. In the meantime, Alice, who had barely slept, realised she might miss her planned bus and (probably - if it's not on Strava..) achieved a PB 5k to the bus stop, at 2 am. Luckily for me, she was there waiting to help me refuel, change kit and replan for the next half of the race.
The station served warm food and I managed to eat ½ a plate of simple but tasty pasta. I changed my socks, shoes and all my clothes. I refilled my water and sports drink bottles, switched from 500ml to 600ml bottles so that I could be carrying more water through the warm daytime to come.
I felt in good spirits, but I also stayed too long at around 30 mins, having had no clear plan or previous practice of my pit-stop. I left at 5.40 am, on the climb to Bertone, the real halfway point at around 86km and almost 5500m ascent completed. These are steep sections, and although I was moving OK and taking in the beautiful sunrise and the amazing views, I was doing some of the climbs at 3kph, I was still having difficulty eating, and I was slowing down each hour.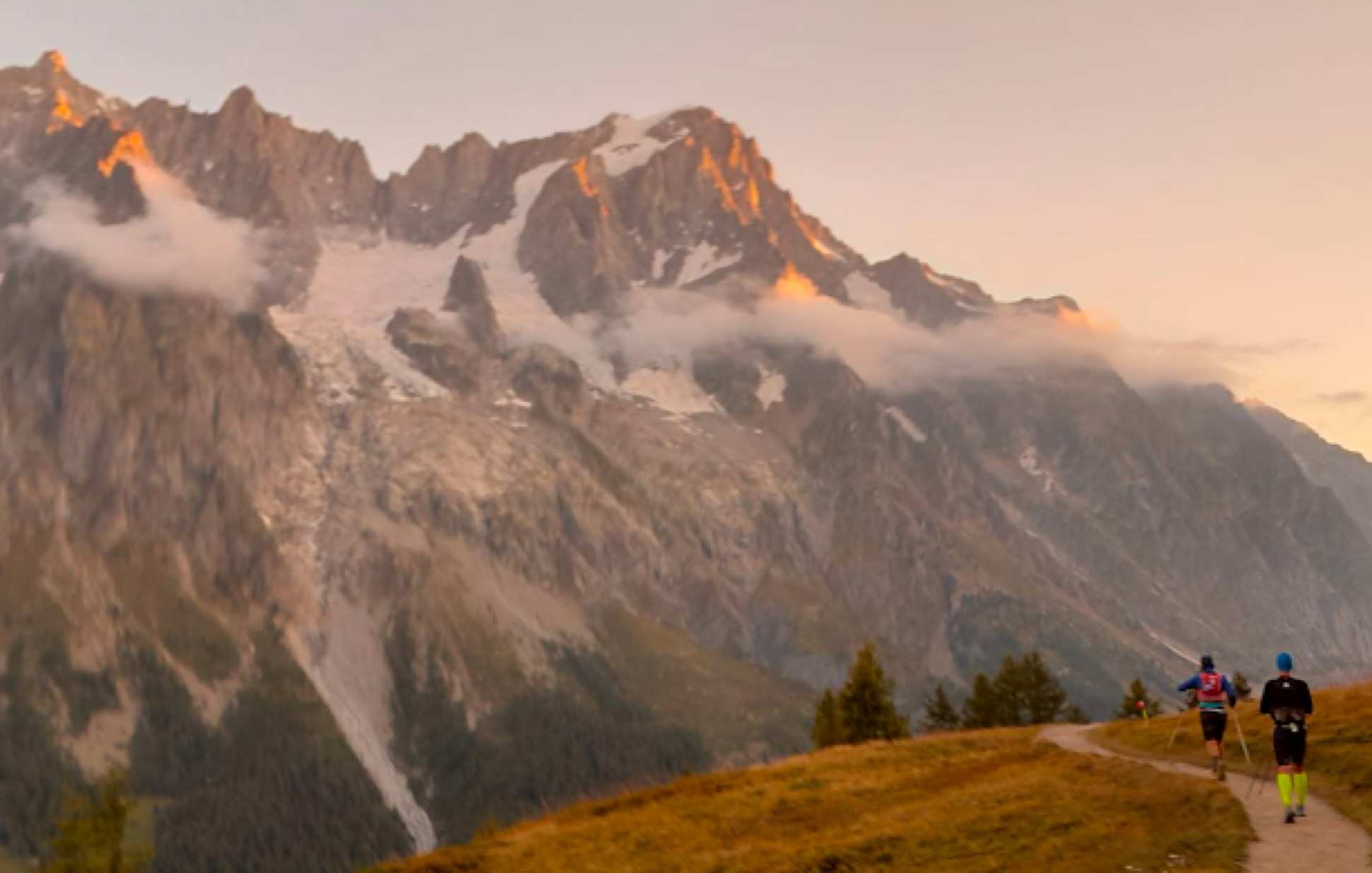 There is 17km of rolling ups and downs, along the breathtaking valley that felt like I'd been in forever. Of course, as you ascend and the valley runs out, you realise that you have to climb the wall of the Grand Col Ferret in front of you. The climb seemed to go on forever, breaking me through the 100km point and finally summiting at 104km in, 6600m and starting the immense downhill section on the Swiss side.
There's no place like home.
Switzerland just looks like Switzerland: Immaculate houses, lawns, fields, gnome collections. The people are friendly but not too overt, and the feeling of having returned home helped ease the pain of the 22km descent down mountain track, gravel then roads before a small climb to Champex Lac, a jolly and relaxed holiday destination for hiking, camping and skiing in winter.
At this point, I was ready for a holiday. After over 18 hours and a very tough ~7 hours since Courmayeur. I was broken, tired to the bone and was overheating and getting sunburnt in the midday sun. Walking was tough. The thinking was tough. Eating was impossible. I was moving so slow that I wouldn't get anywhere near my 2018 time of 26 hours, it could be 35 hours or more. I was going to quit when I got to the station, and I was going to head back home.
One more plan flew through my brain - lie under a tree for a while, cool down, maybe have a small sleep, try to eat and drink something. You might feel better. You might be able to walk the rest of the race? … Hmmm there's more than a marathon distance left and not far off 3000m climbing … how about we take each step as it comes?
I walked or perhaps stumbled towards the tent, and sat down in the cool shade for a while. I got up and got some water. I got 2 pieces of watermelon and 2 orange slices and sat for 15 mins. Still feeling pretty bad, I got 2 more pieces of watermelon and a small piece of dry honey cake and ate it slowly. I'm going out again.
After 30 mins in the Champex Lac tent, I started moving again... very slowly.
Just keep moving
Mostly walking, with small sections of jogging, I moved onwards, climbing again. Slowly but steadily, the energy flowed, helped by trading places back and forth with Uxue Fraile who had been 2nd place woman in 2018. Her English is better than my Spanish but limited, however, it was nice to have some distraction from the trail. Over the 12km from Champex, I only moved at 5kph average but was starting to descend again, before getting to the tiny, dark cowshed with no door that is known as the Le Gate station.
Here, Joy and Gianluca, friends who'd done the OCC race earlier, were waiting. They had camped out overnight and hiked up from the next section and were a big morale boost. Unfortunately, they decided this was a great time for a run-along and photoshoot. So here are some pics.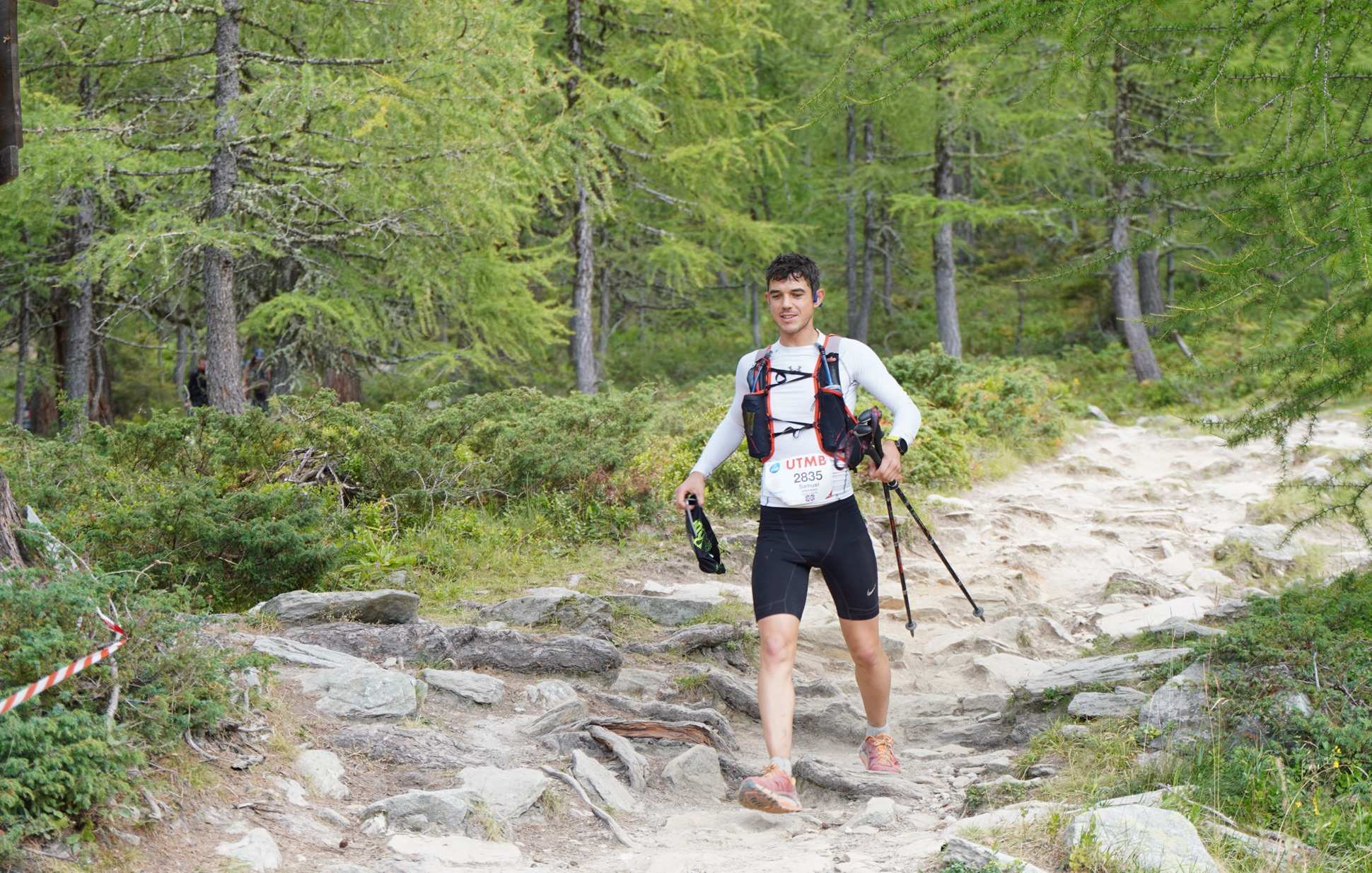 They dropped behind but then easily caught me again - I was moving through treacle, but still moving.
Then the course tries to finish you.
1km descent over 5km to Trient (143km), 1km climb to Tseppe over 3km, 1km descent over 7km to Vallorcine (154km).
The final big station before the end.
I've got nothing left - stripped apart physically, mentally, emotionally and on the verge of tears. Will Alice be there? She wasn't sure if she would be able to make it.
I walk into Vallorcine, at a pace somewhere between stumbling drunkard and standing still. Alice is there, I can eat something slowly, drink, receive a lot of encouragement from Alice and in a blink of an eye (17 mins) I'm out again and still tearfully heading out to the last big climb. The end feels attainable now, and although physically and emotionally fragile, I can think positively for the first time in 6 hours that I should make it all the way.
Hippies, Hugs and Heroics - the final push
I make the way across the fields from Vallorcine and up the road to the final big climb to La Tête aux Vents. On the road I see the regular supporters every year - who've already been waiting out at a number of stages of the race throughout the previous 24 hours, an amazing couple that seems to enjoy coming to UTMB to dance, sing and DJ the runners along - she even gets me to attempt a very feeble boogie as I walk slowly up the road.
Then cross the road, and there is a steep grey wall of rock in front. The last climb. And then a final boost - other friends Robbie and Victoria have hiked up to the base of the climb and are dishing out hugs and encouragement (and photos) exactly when I needed it.
Start the steep and technical climb, slowly, and step-by-step I climb the hill. Pretty soon, I get to the final and loudest spectators on the course so far, who almost try to shout you up the hill with the force of their voices. But it does take quite a lot of volume to get a response from me at this stage so perhaps it's me, not them.
Pretty quickly, I hear the friendly hooligans shouting 'Joe, Joe, Joe' and I know I'm not alone. Then, very quickly I'm passed by Joe, and there's no way I can match him. I do my best to keep him in sight. And then someone else below me too. I really don't want to start losing places again right at the end of the race, so I just try to keep Joe in view and push a little bit to at least stay the same distance behind him.
As we continue to climb I'm not losing any ground on Joe, and the guy behind me starts to drop back a little. Am I getting faster, is Joe slowing, or perhaps both? Time to test my legs again perhaps! I start slowly try to catch up with Joe and as the steepness of the hill starts to reduce, I reach him again. Unlike the previous 155km, I'm biting at his heels and he doesn't make room for me, so I have to jump past on a section where there is enough room. OK, now you want to race do you? Dusk is falling, and I get my headlamp ready so, I can turn it on when I need it.
Then I see Uxue ahead again, and I decided that, with the climb flattening out, now is the time to just keep going faster. Again she isn't pleased that I get passed, but we exchange (final?) hellos. We just need to traverse and then there will soon be a net-downhill section to Flegere and the final 10km sprint down to the finish. Now we're all running again as if we hadn't already done almost 160km, and I'm in the lead of this small group. I do not want to slow down or get overtaken again as I don't know if I could make another comeback.
The climb finally flattens off, but we're running through a massive boulder field, and it's not easy to be quick whilst jumping up/over/down the big steps with blisters and bloody toes pounding in my shoes. I still run faster. One more runner ahead. He definitely doesn't want anyone to pass and there's almost no good section to pass. After 5-10 mins, we reach a couple of metre drop and I take a slightly risky route and slide down the stones and shoot ahead.
I keep getting faster and now we're slowly heading down. I can see trees and buildings and some lights ahead. It's getting dark now but I can see the ski lifts that signal Flegere (165km) and the final descent.
I push on even faster but look around and see the group is not far behind me. If I slow, or don't keep pushing, then I could get past again before the end. There is a dip down onto the snowless piste and I try to keep my speed up to carry me up the final small zigzagging climb to the top.
I turn off my headlamp as I turn the first bend. I want the group following to think i've raced ahead and there's no point catching me. I crest the hill, get to the final food tent precariously perched on the top of the hill, race through, grab a small slice of cake and start the descent. I don't turn on my lamp again until I get to the end of the first turn on the ski slope and am hidden again by trees. The slope is pretty nasty gravel and boulder-strewn road, with regular large dips to channel water. This is agony for my bruised and bashed feet as you can never land flat and your foot moves around in your shoes a lot. However, at this stage, the pain doesn't really register anymore, the end is so close.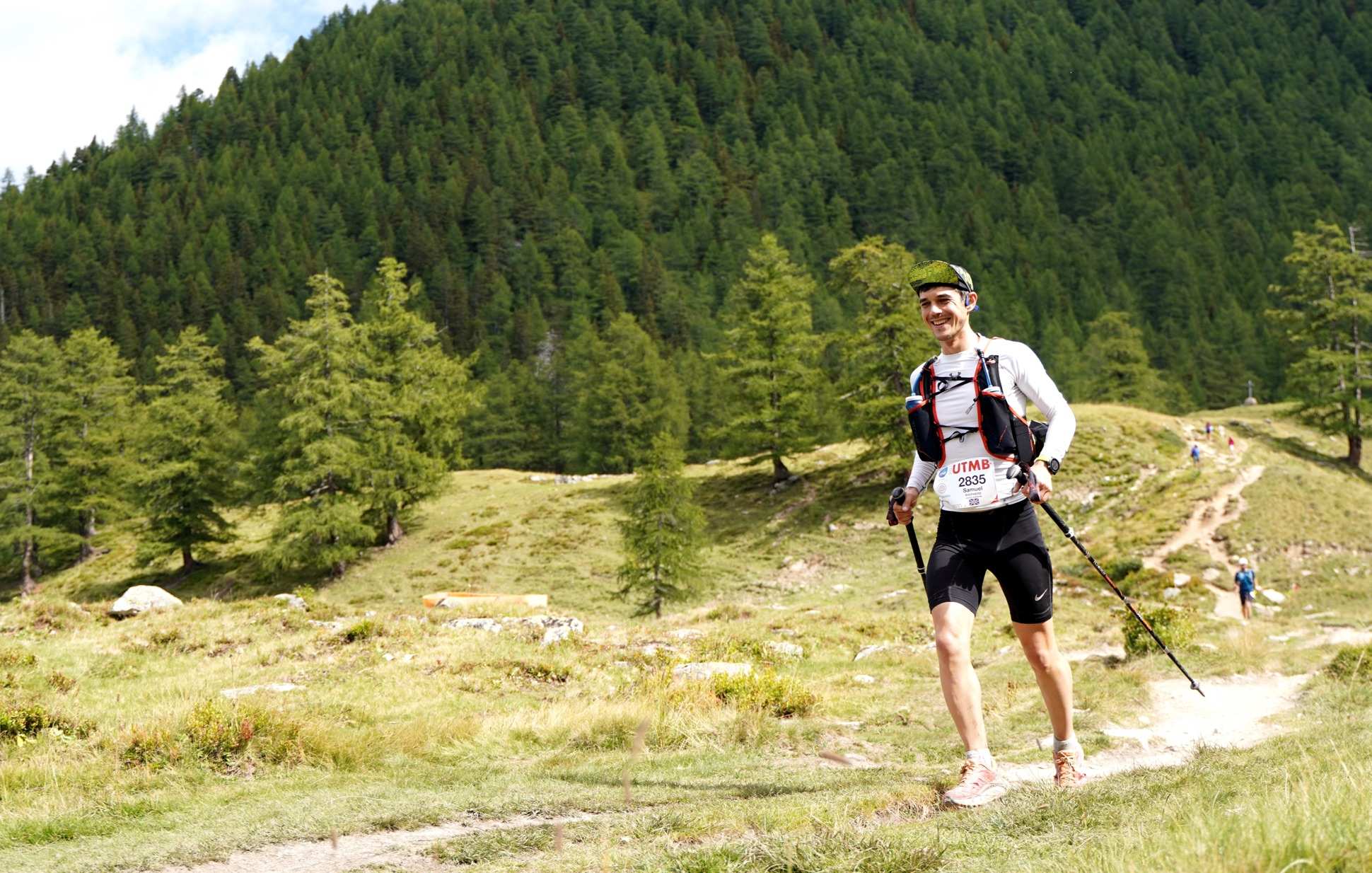 I know I'm relatively faster downhill than most people so I am flying down, but I'm still holding back a little. I pass one more person on the road and the path jumps into the woods to traverse across the side of the mountain towards Chamonix. The path in the woods is thin, with dense trees all around and a steep drop. The path is littered with tree roots and stones that can easily cause a fall. However, this is just like running on home trails in Zug, and I turn up the pace to my maximum.
I want this over now, and as quickly as possible. I'm am enjoying the breakneck speed, and my legs and foot placement is perfect, I see all the obstacles flashing in the headlight in my peripheral vision and then flash past. Root-rock-gap-rock-rock-root-gap. I see a group of slow-moving lights and I fly past them as fast as possible to avoid any chance they attempt to race.
As the path continues, I see the lights of the town and look for more discernible features in the dark. First, a window rather than just points of light and then buildings, and I'm out of the woods and descending the last few section to the town.
A last runner is gingerly running ahead and I have a small chance to redeem my overly competitive behaviour. As I pass him he says his headtorch was broken (and the backup headtorch that was also broken) so he had been using his phone torch as a light. I slowed down and we both followed my lamp's light to the bottom of the hill.
Then the real final, and devilish climb. To safely cross the road, you have to navigate a scaffolding bridge (this felt like cruel and usual punishment in my 2018 race, but this time I went up the steps two at a time).
Then a final sprint along the river, then, through the town, supported by the growing crowd, then supporting friends, then a very cheerful Alice, a lot of high-fives, then the finish. That felt nice.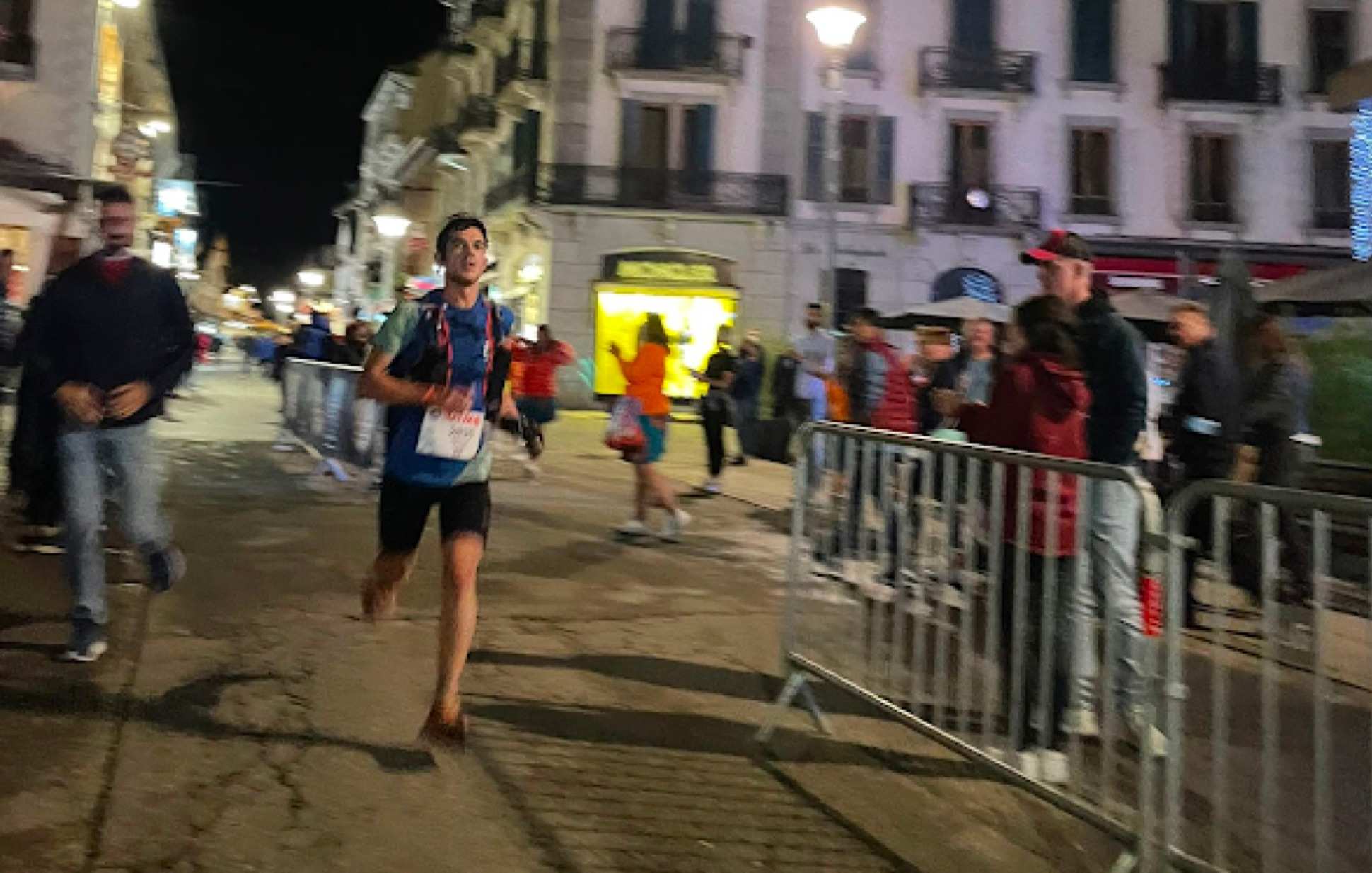 Now do I want to do it all again next year? What do you suggest Alice?
Many many thanks to Alice, Pedro, Orquidia, Sara, Joy, Gianluca, Jack, Roberto, Victoria, Jerome, Solene, Louanne and also to those who read this far.